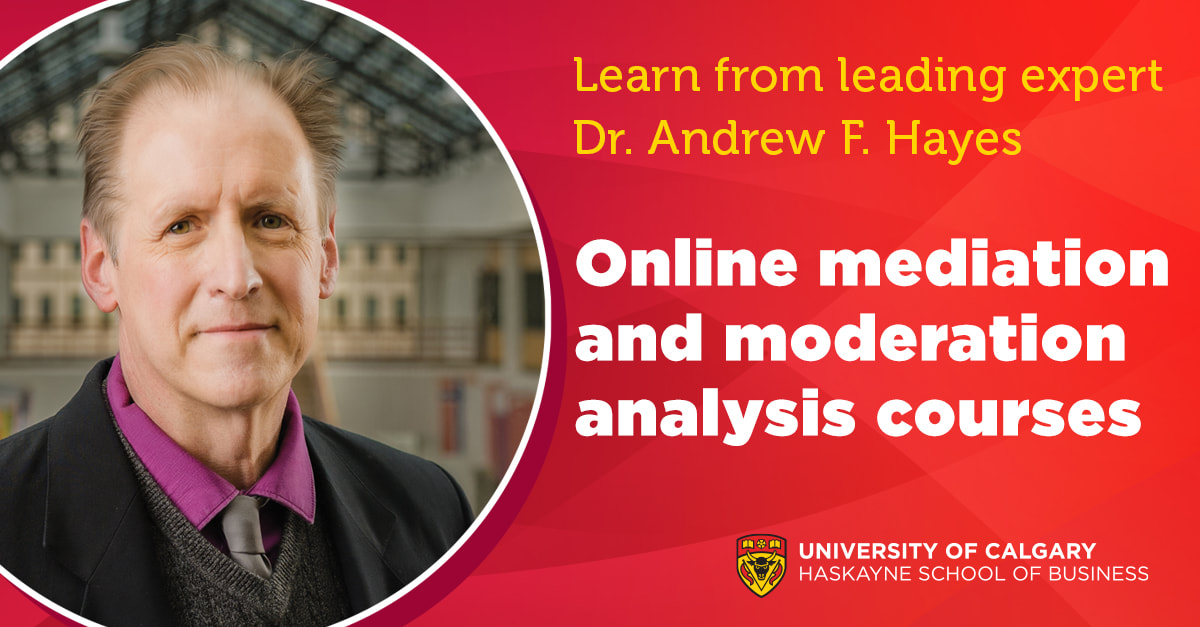 Take a CCRAM Session on Mediation, Moderation, and Conditional Process Analysis through the Canadian Centre for Research Analysis and Methods (CCRAM). Course 1 is delivered online, is self-paced, and begins January 10, 2023 (here is a brochure). Course 2, also delivered online and self-paced, begins February 14, 2023 (here is brochure). For more information and to register, go to the CCRAM page. Both of these courses (or a single course that combines both of these courses into one) can be offered to your group of 10 or more people as a private or semi-private course by hosting a CCRAM Session.
---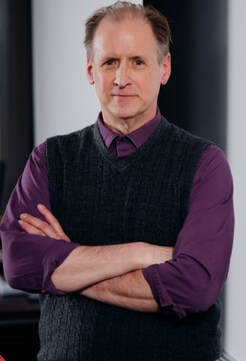 Andrew F. Hayes, Ph.D.
Distinguished Research Professor
Haskayne School of Business
Adjunct Professor
Department of Psychology
University of Calgary
Calgary, Alberta, CANADA
andrew.hayes@ucalgary.ca
​
My research focuses on linear models, with an emphasis on resampling methods of inference. Specific areas of investigation and writing include statistical approaches to assessing mediation, moderation, and the contingencies of mechanisms. I hold a Ph.D. in Psychology from Cornell University (1996) and a B.A. in Psychology from San Jose State University (1991).
My methodology work is published in such locations as
Psychological Methods
,
Multivariate Behavioral Research, Behavior Research Methods, Psychological Science,
the
British Journal of Mathematical and Statistical Psychology
,
Behaviour Research and Therapy
,
American Behavioral Scientist
, and
Communication Monographs
. In January 2022, The Guilford Press released the 3rd edition of
"Introduction to Mediation, Moderation, and Conditional Process Analysis: A Regression-based Approach
". Guilford also published my third book, "
Regression Analysis and Linear Models,
" coauthored with Richard Darlington. In 2005, Lawrence Erlbaum (now Routledge) released my first book,
"Statistical Methods for Communication Science."
---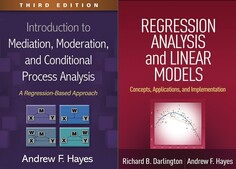 ---